Aims and Scope
G. Ulrich Exner, Luca Mazzucchelli, Francesca Napoli, Christian Candrian
---
A 13-year-old boy complained of shortness of his left arm with the desire for lengthening.
The X-Ray showed the enlarged ellipsoid shaped humeral epiphysis in varus position and irregular joint surface. The MRI documented a distorted bone structure involving the complete epiphysis, overgrowth of the tuberosities and partial closure of the physis. MR-angiography revealed normally appearing vessel formation; however, a biopsy was recommended to rule out a vascular malformation. A tru-cut needle biopsy confirmed the diagnosis of enchondromatous changes.
As the patient felt strongly disturbed by the shortness of his arm, lengthening was performed using the fully inserted magnetic driven PreciceR nail.
Conclusion:
This case is of interest as epiphysial enchondromas are rare and complete involvement of the proximal humeral epiphysis causing growth deficiency to our knowledge has never been described before. Lengthening using a device penetrating the cartilaginous region is debatable; however, so far, sarcomatous dedifferentiation in epiphysial enchondromas has not been described.
---
March 20, 2020
Konstantinos Pantazis, Andreas Panagopoulos, Irini Tatani, Basilis Daskalopoulos, Ilias Iliopoulos, Minos Tyllianakis
---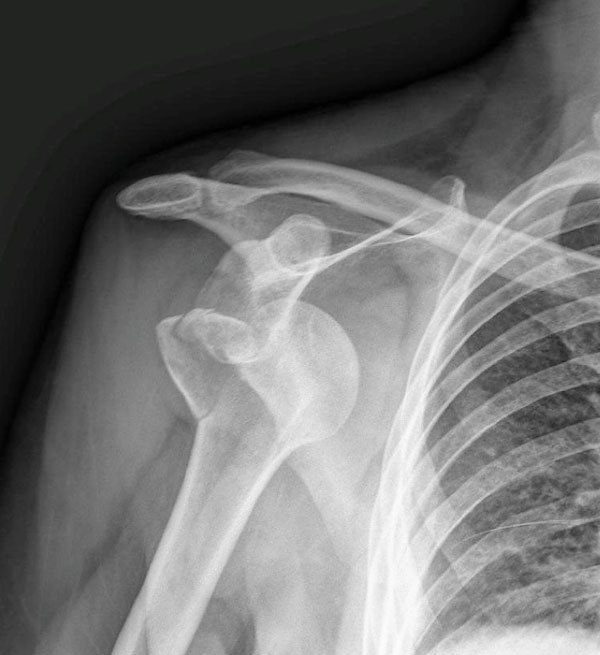 Background:
Failure of closed manipulative reduction of an acute anterior shoulder dislocation is seldom reported in the literature and is usually due to structural blocks such as soft tissue entrapment (biceps, subscapularis, labrum), bony fragments (glenoid, greater tuberosity) and severe head impaction (Hill-Sachs lesion).
Case report:
We present a case of an irreducible anterior shoulder dislocation in a 57-year-old male patient after a road-traffic accident. He had severe impaction of the head underneath glenoid rim and associated fracture of the greater tuberosity. Closed reduction performed in the emergency room under sedation and later at the theatre under general anaesthesia was unsuccessful. Open reduction using the dectopectoral approach revealed that the reason for obstruction was the posterolateral entrapment of the biceps tendon between the humeral head and the tuberosity fragment. Reduction was achieved after subscapularis tenotomy and opening of the joint; the tuberosity fragment was fixed with transosseous sutures and the long head of the biceps tendon was tenodesized. The patient had an uneventful postoperative recovery and at his last follow up, 12 months postoperatively, he had a stable joint, full range of motion and a Constant score of 90.
Conclusion:
A comprehensive literature review revealed 22 similar reports affecting a total of 30 patients. Interposition of the LHBT alone or in combination with greater tuberosity fracture was the most common obstacle to reduction, followed by subscapularis tendon interposition and other less common reasons. Early surgical intervention with open reduction and confrontation of associated injuries is mandatory for a successful outcome.
---
April 27, 2017