Aims and Scope
Alex Madzia, Chirag Agrawal, Paddy Jarit, Stephanie Petterson, Kevin Plancher, Ralph Ortiz
---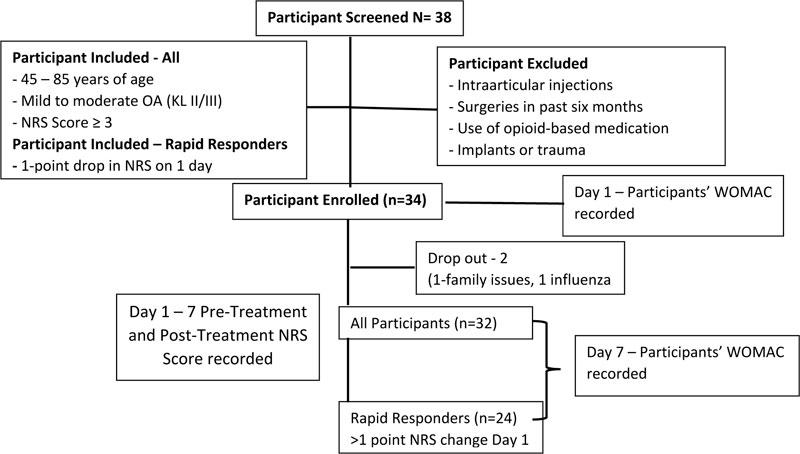 Background:
Sustained Acoustic Medicine (SAM) is an emerging, non-invasive, non-narcotic, home-use ultrasound therapy for the daily treatment of joint pain. The aim of this multi-site clinical study was to examine the efficacy of long-duration continuous ultrasound combined with a 1% diclofenac ultrasound gel patch in treating pain and improving function in patients with knee osteoarthritis.
Methods:
The Consolidated Standards of Reporting Trials (CONSORT) were followed. Thirty-two (32) patients (18-males, 14-females) 54 years of average age with moderate to severe knee pain and radiographically confirmed knee osteoarthritis (Kellgren-Lawrence (KL) grade II/III) were enrolled for treatment with the SAM device and diclofenac patch applied daily to the treated knee. SAM ultrasound (3 MHz, 0.132 W/cm2, 1.3 W) and 6 grams of 1% diclofenac were applied with a wearable device for 4 hours daily for 1 week, delivering 18,720 Joules of ultrasound energy per treatment. The primary outcome was the daily change in pain intensity using a numeric rating scale (NRS 0-10), which was assessed prior to intervention (baseline, day 1), before and after each daily treatment, and after 1 week of daily treatment (day 7). Rapid responders were classified as those patients exhibiting greater than a 1-point reduction in pain following the first treatment. Change in Western Ontario McMaster Osteoarthritis Questionnaire (WOMAC) score from baseline to day 7 was the secondary functional outcome measure. Additionally, a series of daily usability and user experience questions related to devising ease of use, functionality, safety, and effectiveness, were collected. Data were analyzed using t-tests and repeated measure ANOVAs.
Results:
The study had a 94% retention rate, and there were no adverse events or study-related complaints across 224 unique treatment sessions. Rapid responders included 75% of the study population. Patients exhibited a significant mean NRS pain reduction over the 7-day study of 2.06-points (50%) for all subjects (n=32, p<0.001) and 2.96-points (70%) for rapid responders (n=24, p<0.001). The WOMAC functional score significantly improved by 351 points for all subjects (n=32, p<0.001), and 510 points for rapid responders (n=24, p<0.001). Over 95% of patients found the device safe, effective and easy to use, and would continue treatment for their knee OA symptoms.
Conclusion:
Sustained Acoustic Medicine combined with 1% topical diclofenac rapidly reduced pain and improved function in patients with moderate to severe osteoarthritis-related knee pain. The clinical findings suggest that this treatment approach may be used as a conservative, non-invasive treatment option for patients with knee osteoarthritis. Additional research is warranted on non-weight bearing joints of the musculoskeletal system as well as different topical drugs that could benefit from improved localized delivery.
Clinical Trial Registry Number: (NCT04391842).
---
December 18, 2020
Konstantinos Pantazis, Andreas Panagopoulos, Irini Tatani, Basilis Daskalopoulos, Ilias Iliopoulos, Minos Tyllianakis
---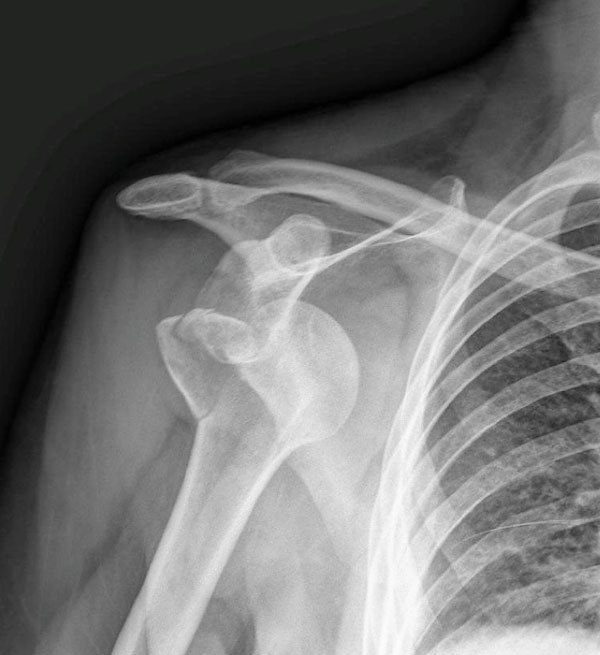 Background:
Failure of closed manipulative reduction of an acute anterior shoulder dislocation is seldom reported in the literature and is usually due to structural blocks such as soft tissue entrapment (biceps, subscapularis, labrum), bony fragments (glenoid, greater tuberosity) and severe head impaction (Hill-Sachs lesion).
Case report:
We present a case of an irreducible anterior shoulder dislocation in a 57-year-old male patient after a road-traffic accident. He had severe impaction of the head underneath glenoid rim and associated fracture of the greater tuberosity. Closed reduction performed in the emergency room under sedation and later at the theatre under general anaesthesia was unsuccessful. Open reduction using the dectopectoral approach revealed that the reason for obstruction was the posterolateral entrapment of the biceps tendon between the humeral head and the tuberosity fragment. Reduction was achieved after subscapularis tenotomy and opening of the joint; the tuberosity fragment was fixed with transosseous sutures and the long head of the biceps tendon was tenodesized. The patient had an uneventful postoperative recovery and at his last follow up, 12 months postoperatively, he had a stable joint, full range of motion and a Constant score of 90.
Conclusion:
A comprehensive literature review revealed 22 similar reports affecting a total of 30 patients. Interposition of the LHBT alone or in combination with greater tuberosity fracture was the most common obstacle to reduction, followed by subscapularis tendon interposition and other less common reasons. Early surgical intervention with open reduction and confrontation of associated injuries is mandatory for a successful outcome.
---
April 27, 2017