Aims and Scope
Akira Ando, Kazuaki Suzuki, Masashi Koide, Yoshihiro Hagiwara
---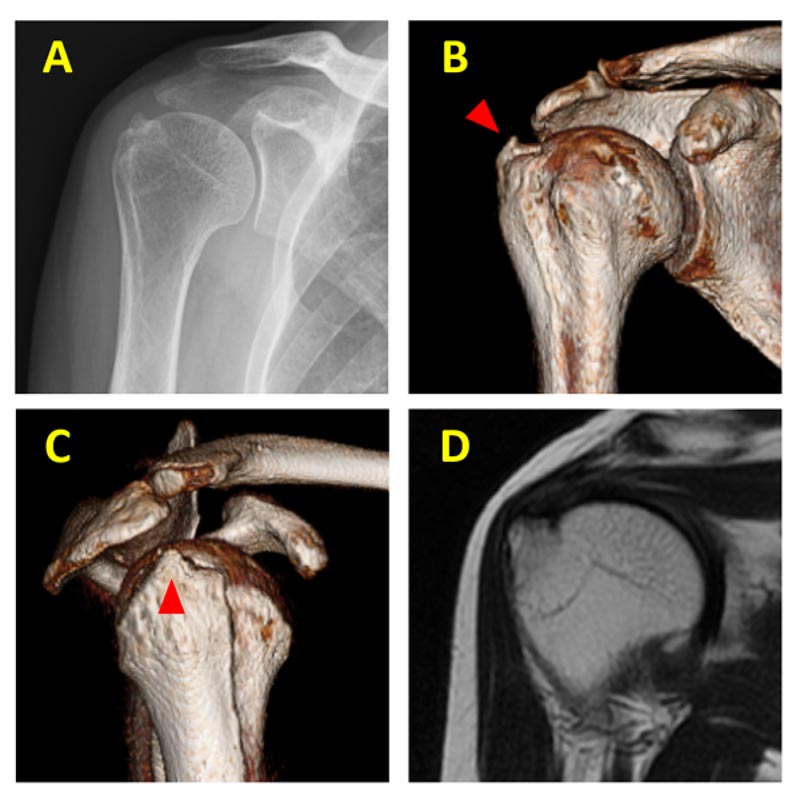 Background:
Greater Tuberosity (GT) malunion can lead to impingement against the acromion, resulting in pain, stiffness, and weakness of the rotator cuff. For patients with lesser degrees of displacement, partial removal of the GT with rotator cuff repair (tuberoplasty) under fluoroscopic guidance is considered.
Case report:
A sixty-five year old female fell from a standing height and suffered a minimally displaced isolated GT fracture. She was conservatively managed for four months and referred to our institution due to persisting pain and stiffness. The shoulder motion was severely restricted (anterior elevation: 90°, lateral elevation: 45°, external rotation with the arm at side: 25°, hand behind back: 4th lumber vertebrae) and pain aggravated especially when laterally elevated. Plain radiography and computed tomography showed small superiorly malunited GT and magnetic resonance imaging showed no rotator cuff pathology. Ultrasound images showed impingement of the GT against the acromion when laterally elevated. Arthroscopic excision of the malunited GT and rotator cuff repair along with capsular release and acromioplasty was performed under ultrasound guidance. The ultrasound images were simultaneously delineated to the arthroscopic monitor. Dynamic evaluation of the reshaped GT passing under the acromion was possible.
Conclusion:
Intraoperative use of ultrasound during arthroscopic tuberoplasty offers advantages over fluoroscopic guidance concerning control of the amount of bone resection and dynamic evaluation between the GT and the acromion in addition to the problems of radiation and space-occupying devices.
---
December 31, 2020
Konstantinos Pantazis, Andreas Panagopoulos, Irini Tatani, Basilis Daskalopoulos, Ilias Iliopoulos, Minos Tyllianakis
---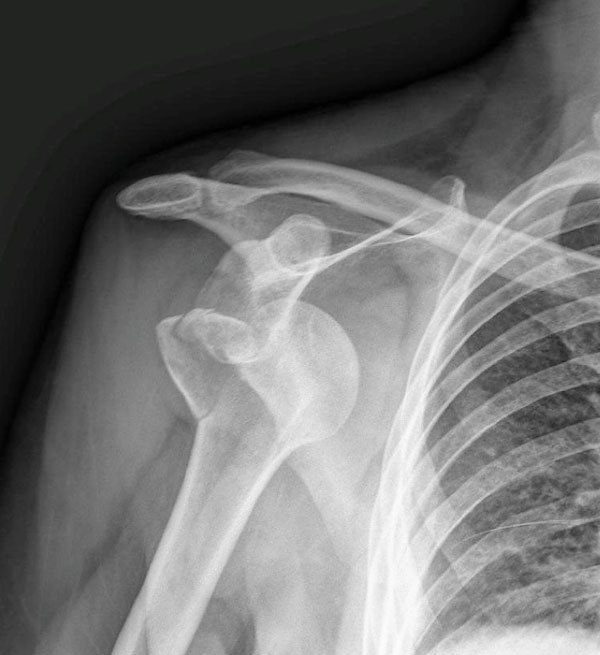 Background:
Failure of closed manipulative reduction of an acute anterior shoulder dislocation is seldom reported in the literature and is usually due to structural blocks such as soft tissue entrapment (biceps, subscapularis, labrum), bony fragments (glenoid, greater tuberosity) and severe head impaction (Hill-Sachs lesion).
Case report:
We present a case of an irreducible anterior shoulder dislocation in a 57-year-old male patient after a road-traffic accident. He had severe impaction of the head underneath glenoid rim and associated fracture of the greater tuberosity. Closed reduction performed in the emergency room under sedation and later at the theatre under general anaesthesia was unsuccessful. Open reduction using the dectopectoral approach revealed that the reason for obstruction was the posterolateral entrapment of the biceps tendon between the humeral head and the tuberosity fragment. Reduction was achieved after subscapularis tenotomy and opening of the joint; the tuberosity fragment was fixed with transosseous sutures and the long head of the biceps tendon was tenodesized. The patient had an uneventful postoperative recovery and at his last follow up, 12 months postoperatively, he had a stable joint, full range of motion and a Constant score of 90.
Conclusion:
A comprehensive literature review revealed 22 similar reports affecting a total of 30 patients. Interposition of the LHBT alone or in combination with greater tuberosity fracture was the most common obstacle to reduction, followed by subscapularis tendon interposition and other less common reasons. Early surgical intervention with open reduction and confrontation of associated injuries is mandatory for a successful outcome.
---
April 27, 2017