Aims and Scope
Kyriakos Kitsopoulos, Bernd Wiedenhoefer, Stefan Hemmer, Christoph Fleege, Mohammad Arabmotlagh, Michael Rauschmann, Marcus Rickert
---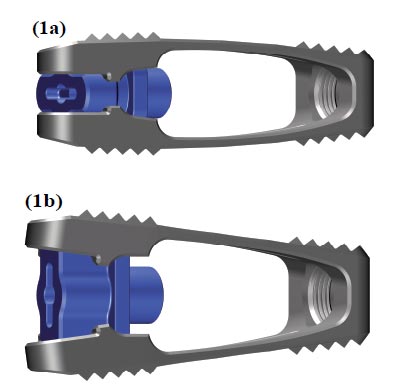 Background:
Compared with static cages, expandable cages for Transforaminal Lumbar Interbody Fusion (TLIF), are thought to require less posterior bony removal and nerve root retraction. They may allow the creation of a greater lordotic angle and lordosis restoration.
Objective:
This study investigated whether TLIF using an expandable lordotic interbody cage facilitates an improvement in both segmental lordosis and the restoration of intradiscal height.
Methods:
A total of 32 patients with 40 operated segments underwent TLIF surgery for lumbar degenerative disc disease and were consecutively included in this prospective observational study. Of those patients, 25 received monosegmental treatment, six were treated bisegmentally, and one was treated trisegmentally. All patients were assessed clinically and radiographically preoperatively, as well as one week, six months, and two years postoperatively.
Results:
Two patients required revision for screw loosening and pseudarthrosis. In four patients, the endplate was violated intraoperatively due to cage placement. Postoperatively, cage subsidence was observed in four patients. Significant improvement in the mean degree of spondylolisthesis was noted at the two-year mark. Mean segmental lordosis improved postoperatively. A significant increase in mean disc height of the treated segment was also found. Overall, with the exception of pain, no significant clinical or radiographic changes were reported between the first postoperative week and the two-year year follow-up mark. The mean pain, functional, and quality of life outcomes improved significantly from the preoperative to postoperative period, with no deterioration between six months and two years.
Conclusion:
This study demonstrates that favorable outcomes can be achieved by using an expandable titanium cage in TLIF procedures.
---
June 10, 2021
Akira Ando, Yoshihiro Hagiwara, Takuya Sekiguchi, Masashi Koide, Kazuaki Suzuki, Kenji Kanazawa, Eiji Itoi
---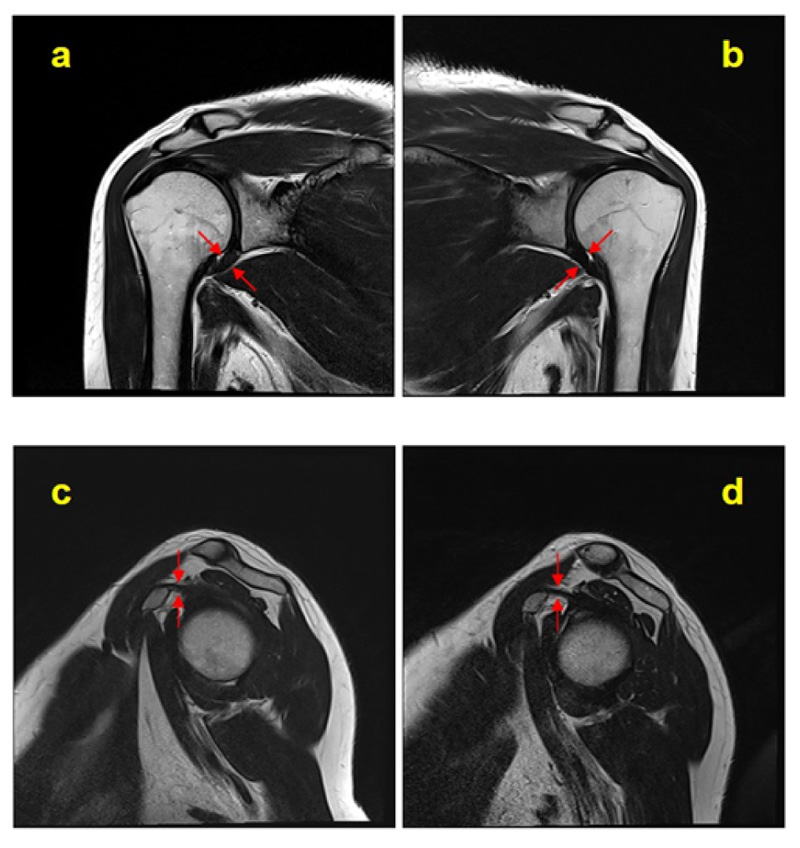 Background:
Frozen shoulder (FS) is clinically diagnosed on the basis of patients' medical history and physical examination. Its confirmation is based on joint capsule and coracohumeral ligament thickening, subcoracoid fat obliteration, and joint capsule contrast enhancement on magnetic resonance imaging (MRI). We performed bilateral contrast-enhanced MRI (CE-MRI) in FS patients to compare the outcomes with those of their unaffected contralateral counterparts.
Methods:
Ten patients (3 men, 7 women, median age: 54.5 years) with unilateral FS, requiring arthroscopic capsular release after failed conservative treatment, were included. The median forward elevation, abduction, external rotation, and internal rotation of the 10 patients were 100°, 60°, 7.5°, and the buttock, respectively. The median visual analog scale score was 5.3, and American Shoulder and Elbow Surgeons (ASES) score was 42. Bilateral CE-MRI was simultaneously performed on the day before surgery, and MRI findings were compared between FS and contralateral healthy shoulders (controls).
Results:
Significant axillary pouch enhancement and rotator interval were observed in all FS, but not in the unaffected comparable sides (p=0.002, respectively). The thickness of the axillary pouch (FS: 4.8 mm, C: 4.4 mm, p=0.58), coracohumeral ligament (FS: 3.9 mm, C: 4.1 mm, p=0.33), and subcoracoid fat obliteration (p=1.00) were not significantly different between FS and controls.
Conclusion:
CE-MRI aids in the clinical diagnosis of FS. However, axillary pouch joint capsule and coracohumeral ligament thickening or subcoracoid fat obliteration differences were not characteristic findings when contralateral shoulders were compared.
---
May 23, 2020